We'd love to see you at our Glut1 Gatherings this month on Zoom. Our February sessions all focus on social time and support. Parents and caregivers for both the English and Spanish speaking sessions are encouraged to come with questions to pose to the group and topics you might want to discuss.
Find more information, schedules, and registration links, and don't forget to join the Family Network to take part. See you soon!

Our 2022 Annual Report is available to download on our website. Learn more about how our community of supporters is helping the Glut1 Deficiency Foundation make an impact through our mission activities to increase awareness, improve education, advocate for patients and families, and support and fund research. Learn about the commitment to our goals for 2023, too, and we hope we can count on your support to keep moving our mission forward.

Sign ups are underway for the annual Love Some1 with Glut1 campaign. It starts on Valentine's Day (February 14th) and runs through Rare Disease Day (February 28th), and we will use those two weeks to work together to raise awareness and critical funds for the mission programs of the Glut1 Deficiency Foundation to help the community we love and serve!
We have a big goal to raise $200,000 to accomplish our big goals to help all Some1's with Glut1. Learn more about them and how you can take part at the link below. Please join us - it is easy, important, and incredibly impactful.
Dreaming of a Brighter Future Video


Wonderful designs were submitted for our t-shirt design contest! Voting is underway now and closes at the end of the day February 8th. The winning design will be available in our Bonfire store during the campaign. Thanks to all who submitted a design and to all who are helping pick the winner!
Hear from some of our community members about why they support the Glut1 Deficiency Foundation by getting involved in fundraisers like the Love Some1 with Glut1 campaign.


G1DF Science Director Sandra Ojeda and Executive Director Glenna Steele participated in the two day Chan Zuckerberg Initiative Rare As One Network Annual Community Meeting last month. It was a chance for fellow Cycle 1 grantees to share updates on our progress to establish collaborative research networks and patient-led research agendas. We also heard from Cycle 2 grantees who are working on the same goals.
We have now officially completed our Rare As One grant period, and we couldn't be more grateful for this incredible opportunity we've had over these last three years to strengthen our organization, build capacity and sustainability, and to concentrate efforts on building a patient-led research network. We've had many resources supplied by CZI in this incubator type of approach, but we've also learned so much from the other rare disease organizations in the network who are on similar journeys facing similar challenges.
We are thankful we'll be able to continue learning, sharing and collaborating through the Alumni Network, and we thank CZI for believing in the power of patients.
We are excited about what lies ahead and will continue to work hard using all we have learned to ensure patient needs and priorities are centered in our ongoing research efforts to drive progress for treatments and cures.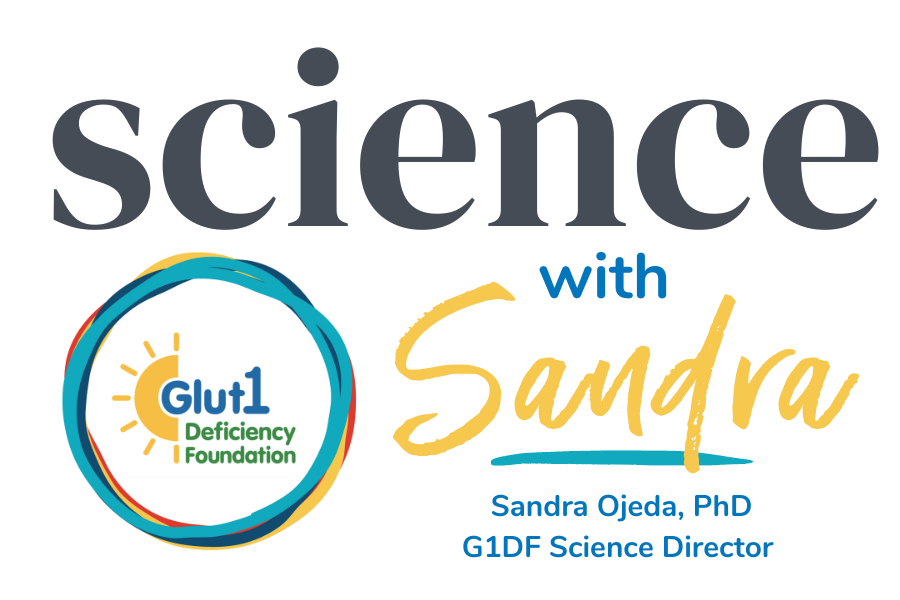 Get the latest updates from G1DF Science Director, Dr. Sandra Ojeda. 

We're proud to support the Glut1 Deficiency Natural History Study, a crucial research project to better understand this rare disease. By participating in this study, you're contributing valuable information and shining a light on the lifelong experiences of those affected. Visit the link to find out more about how important natural history studies are for rare diseases and how to make sure your loved one is counted.

This is a big month for Jyl Riemersma, and we thought it would be a great time to spotlight her story here. Jyl is a current student at Huntington University in their A.B.L.E. Program (Achieving Balance in Life through Education), where she'll graduate in April.
Jyl's mom, Cindy, was a high school cheer coach when Jyl was very young. One of the squad members watched Jyl's family go through the difficult road to get a diagnosis. That young lady went on to become a special education teacher, eventually earning her doctorate, and is now a professor at Manchester University.  She has had Jyl come to her classroom to speak on differentiation in previous years, and this year she asked the amazing Jyl to be a guest speaker on campus!
Jyl is also part of the cheer team at Huntington University. Her cheer coach made a Love Some1 with Glut1 bow for everyone on the team and they have activities planned throughout the month of February to honor Jyl by bringing awareness to Glut1 Deficiency.
A group of Jyl's college friends are showing love for their Some1 with Glut1 in this video - even sporting shirts from our Bonfire store! Her mom Cindy says her friends accept her, support her, and cherish being part of Jyl's every day life.


We want to hear from you! Share YOUR story with our community! You never know who needs to hear it. We feature stories on our social media pages along with our website. Fill out our online form or send inquiries to [email protected]. 
Tom and Maria Rebbecchi had the opportunity to speak to the first year class of Cooper Medical School of Rowan University in New Jersey on January 10th.
They talked about Dominic's journey to a diagnosis of Glut1 Deficiency Syndrome and their experiences and reflections as medical professionals. Tom is an ER doctor and Maria is a registered nurse. Both have ties to Cooper Health and they make this presentation annually to help medical students have an inside look at navigating the healthcare system with a child with a rare disease.
It is also a great opportunity to educate this next generation of healthcare providers about Glut1 Deficiency so hopefully they can recognize symptoms and help any future patients in their care get a diagnosis.

Macie and Glenna Steele were honored to serve as panelists on a special session on nutrition and adults with intellectual and developmental disabilities sponsored by The American Academy of Developmental Medicine and Dentistry. AADMD was formed to improve interdisciplinary healthcare, create more access to care, and end health disparities for people with intellectual and developmental disabilities (IDD).
G1DF Medical Advisory Board member Dr. Mackenzie Cervenka was the moderator, and Macie's medical history, journey to a diagnosis, and experiences with ketogenic dietary therapy were highlighted.
The G1DF was humbled and honored to be included in the memorial tributes for Janet Dixon, mother of board member April York and grandmother to Abby. Janet was a longtime supporter of all things Glut1, and we also appreciate so much the $2,400 contributed in her memory by her friends and loved ones.
We're so grateful to our January Facebook and Instagram fundraisers and thank each one of you and your friends and followers who donated. You've helped us raise awareness and contributed essential funds for our mission programs - $989.97 total!
Brian Blanding
Phyllis Chinault
Carrie Genovese
Penni Foley
Letizia Bonfanti
Shannon Marie

If you have used AmazonSmile in the past, you have likely heard that the program is ending later this month. We want to thank all of you who have made the Glut1 Deficiency Foundation your charity of choice for AmazonSmile in the past. We've been so fortunate to have received over $7,000 in support over the years, and it has certainly been an impactful program for us that we are sad to see come to an end.
board of directors

application
The Glut1 Deficiency Foundation anticipates vacancies on the Board of Directors in July when some of the current board terms expire and reach term limits. If interested, please visit our website for more information and consider applying if you would like to serve!