The community came together in a big way for the annual Love Some1 with Glut1 awareness and fundraising event. It was an incredible two weeks of inspiration and motivation as families put their hope for a brighter future into action by sharing stories, dreaming dreams, and celebrating our loved ones for their perseverance and positivity in the face of so many challenges.
Even though we didn't yet reach our big, bold goal of raising $200,000, we did raise more dollars from more donors in honor of more participants than ever before. The current totals are $163,264 raised from 938 individual donors inspired by 51 fundraisers.
We are incredibly grateful for each and every donation and love the reminder of what can be accomplished when we work together.
We will keep tallying and you can still donate!  We look forward to sharing more details on the final results and how your generosity will be invested to provide resources and drive research progress.
Rare Disease Day is observed on the last day of February each year and is set aside as a special day to raise awareness about the impact of rare diseases on patients' lives every day and to emphasize the need for research. It is also an important opportunity to honor and show solidarity with the millions of rare disease patients around the world who have one of the thousands of different rare diseases that have been identified. Rare disease journeys are often lonely, and it helps so much to be part of a community - both the global rare disease community and our very special Glut1 Deficiency community.
There were special activities that helped shine a light on our disease and our amazing patients and families who teach and inspire all of us. We are so thankful for them all!

Pleasant View Middle School in Pueblo, Colorado honored Rare Disease Day by inviting Terri Weldon to share information with students and staff, highlighting her daughter Makenzy and Glut1 Deficiency. They had a wear jeans for rare genes day and raised $502 for the Glut1 Deficiency Foundation!

Caroline's mom, Marjorie, hosted a special session of family yoga at her studio in Miami in honor of Rare Disease Day and the Love Some1 with Glut1 campaign. Participants came together to raise awareness and admission was a donation to the Glut1 Deficiency Foundation - check out that yoga gear, too!

 Jyl was a shining star onstage for her "Becoming Miss Amazing" presentation at Manchester University, where she was invited to be a guest speaker. She got to share her story and taught others about Glut1 Deficiency.
Jyl is a current student at Huntington University in their A.B.L.E. Program (Achieving Balance in Life through Education), where she'll graduate in April. She's on the cheer team and has been raising awareness about Glut1 at many sporting events, too! She'll be presenting her story and educating about Glut1 Deficiency at Huntington University in March.

Rick and his mom, Chris, attended a Rare Disease Day event in Grand Rapids, Michigan where there were a number of excellent speakers, including a focus on the sibling journey. Rick and Chris were able to teach others about Glut1 Deficiency, too, and share their story highlighting the long diagnostic odyssey for Rick when he got his diagnosis at age 36.

Sofia and her mother, Sandra, attended Rare Disease Day events in Sugar Land, Texas sponsored by NORD. It was a fun day with exhibits and activities, and they sported their Glut1 Deficiency shirts to raise awareness and visited the 18 booths to share their story and learn from others, too.
Sofia's father, Juan, is a member of the Southwest Cycling Club in the Houston area, and they held a Rare Disease Day gathering again this year to honor Sofia while raising awareness and funds for her Love Some1 with Glut1 fundraising efforts.

The G1DF's Maddison Hall put together this special video honoring our loved ones on Rare Disease Day.
Our monthly Glut1 Gatherings continue for March with focus again on social time and support. Parents and caregivers for both the English and Spanish speaking sessions are encouraged to come with questions to pose to the group and topics you might want to discuss.
Find more information, schedules, and registration links below, and don't forget to join the Family Network to take part. Watch for a new events calendar feature coming on our website soon to make it easier to keep up with all the happenings!

Team Glut1 rides again! We are thrilled to be participating in the 2023 Million Dollar Bike Ride this year and welcome this opportunity to help secure a matching research grant for Glut1 Deficiency. Join Team Captain and G1DF Board Member Erin Meisner in Philadelphia on Saturday, June 10th. Learn more here!
We are happy to share the latest edition of our educational brochure. We hand them out at our professional exhibits and include copies in our welcome packets for newly diagnosed families. These are available for download on our website and we're happy to send printed copies - just send us a message!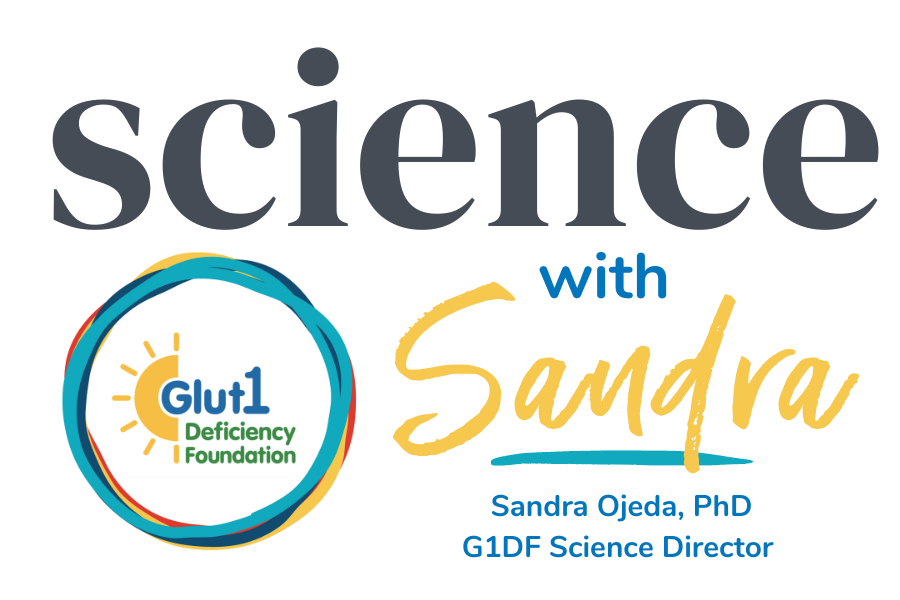 Get the latest blog updates from G1DF Science Director, Dr. Sandra Ojeda. 

Sandra was also the guest speaker on an Instagram Live with @glut1enespanol1 to talk about the challenges of Glut1 Deficiency with the Spanish speaking community.
Sandra and Executive Director Glenna Steele attended patient-focused Rare Disease Day events from the FDA and NIH. Both were excellent opportunities to hear from leaders at these institutions about their efforts for treatment development and helping rare disease patients through research.
We're proud to support the Glut1 Deficiency Natural History Study, a crucial research project to better understand this rare disease. By participating in this study, you're contributing valuable information and shining a light on the lifelong experiences of those affected. Visit the link to find out more about how important natural history studies are for rare diseases and how to make sure your loved one is counted.
Sometimes, the doctors and researchers who are working so hard to help our loved ones seem like invincible super heroes, and in many ways they are! Their heart, compassion, and dedication for our community remind us that they are indeed very human, and sometimes also the twists and turns of life remind us of that as well.
We are sharing some updates from Dr. Darryl De Vivo and Dr. Juan Pascual below. If you have cards or notes you'd like us to deliver to either of them, please send to us and we'll make sure to forward them on:
Glut1 Deficiency Foundation
PO Box 737
Owingsville, KY  40360
Dr. De Vivo and Dr. Pascual are both such precious and integral parts of our community and to the work of the Glut1 Deficiency Foundation. We are so grateful for them and wish them both the very best!


Dr. Darryl De Vivo has let us know that he will be transitioning to Professor Emeritus at Columbia University, which means he will be leaving his previous duties there and serving in an esteemed honorary role as he enters retirement.
Dr. De Vivo has served patients and families for decades and has had a storied career in the pediatric neurology field. He was the first author on the 1991 paper describing glucose transporter type 1 deficiency syndrome for the first time in the first two patients ever identified, and our disease is also known as De Vivo Disease.
While we are most fortunate to be able to continue to count on Dr. De Vivo for his wisdom and knowledge on our Medical Advisory Board, we do want to recognize this milestone in his extraordinary career and are planning some special recognition and celebrations - more details to come!


Dear families and friends,
I suffered an accident and have been recovering from surgery. Thank you for all your letters and concern. While I do not seek attention, all the support has truly helped. I feel terrible that two February clinic dates were canceled, disrupting travel plans for several families. These appointments will be or have been rescheduled. March clinics will take place as scheduled, although I will have reduced mobility. I expect to resume full activities, including conferences, by the summer.
Work in the laboratory has continued uninterrupted. Laboratory members were with me since the day of the injury and we continued to meet daily, first via video and now in person. The past few months saw a number of publications from work that started several or, in some cases, many years ago. This represents less than 50% of our recent research. Hopefully, the rest will be published in the coming months as well.
Fortunately, the number of new, potentially important scientific aspects and treatments has been unprecedented. In all candor, sometimes we feel a bit overwhelmed with so many leads to pursue. We do hope, more than ever, that all this work will stimulate others to join the field. As importantly, we could not do any of it without your support, the support of the Glut1 Deficiency Foundation, and the motivation that all of you constantly provide.
Thank you very much.
Warm regards,
Juan M. Pascual
There were so many wonderful glimpses into the lives of patients and families shared on the Love Some1 with Glut1 campaign pages this year - the challenges, the triumphs, and the hopes and dreams. We wanted to spotlight their remarkable stories this month and hope you'll take a few minutes to get to know them better by visiting the landing page for the campaign.

We want to hear from you! Share YOUR story with our community! You never know who needs to hear it. We feature stories on our social media pages along with our website. Fill out our online form or send inquiries to [email protected]. 
We're so grateful to our February Facebook and Instagram fundraisers for birthdays, Rare Disease Day, and Love Some1 with Glut1. We thank each one of you and your friends and followers who donated. You've helped us raise awareness and $4,615 total!
Tom McLaughlin
Tonya Davies
Denise Matthews
Our t-shirt contest was a huge success - thank you to all who took part! The winning design came from Michelle Mahoney, mom to two daughters with Glut1 Deficiency - Tullah and Myrtle. The special edition shirt sale ended on March 1st, but a new batch was automatically opened in our Bonfire store and we didn't realize that would happen. If you missed the first chance to order, you can get yours now through March 21st!
board of directors

application
The Glut1 Deficiency Foundation anticipates vacancies on the Board of Directors in July when some of the current board terms expire and reach term limits. If interested, please visit our website for more information and consider applying if you would like to serve!