Glut1 Deficiency Foundation
Research Ready Series
The Glut1 Deficiency Foundation is pleased to offer the new Research Ready Series, a special project to build a strong, patient-centered research foundation and increase research literacy in our community.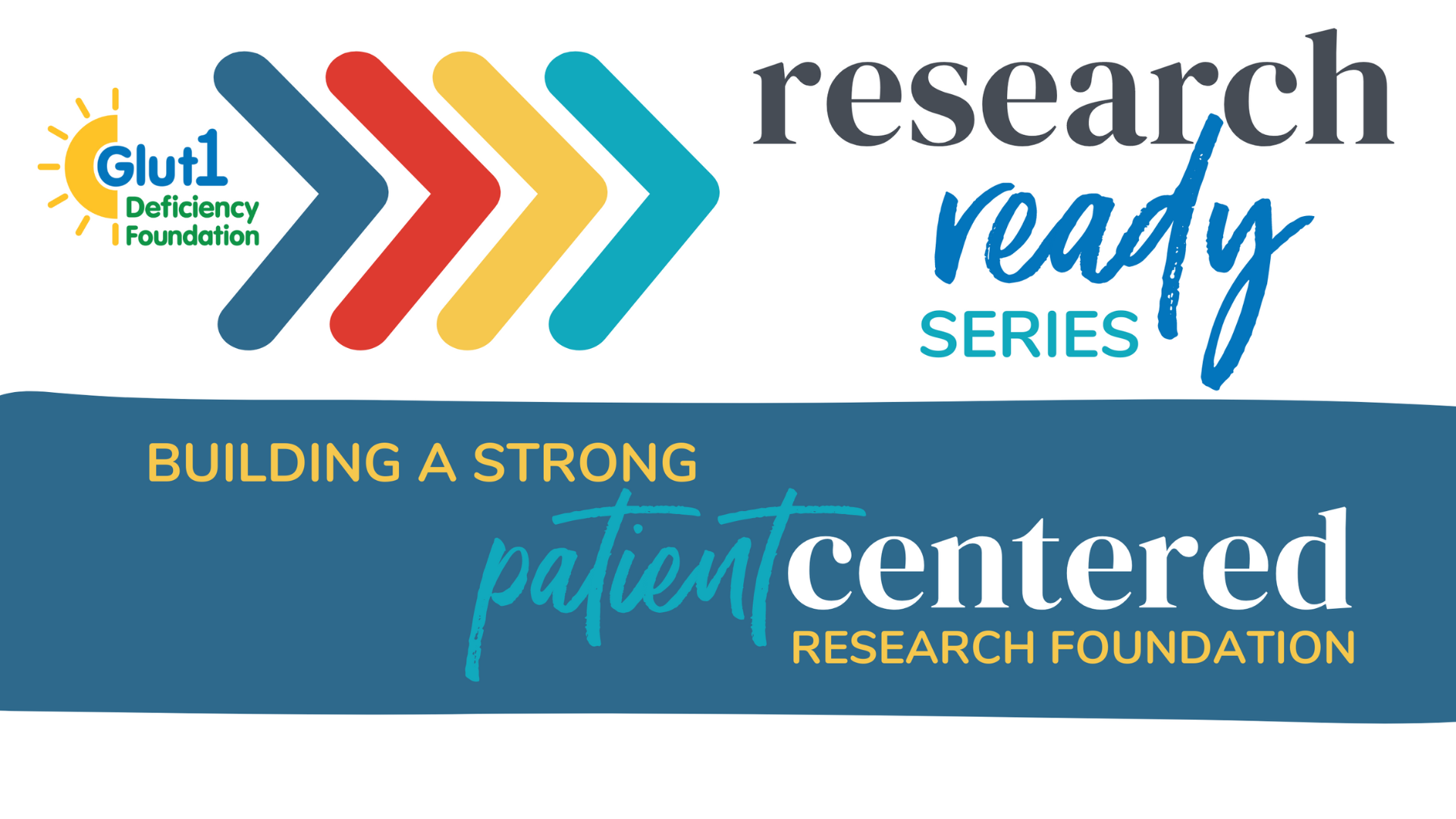 educate the community on the importance of patient-centered outcomes research
increase research literacy and clinical trial readiness
help ensure research is focused on the needs and priorities of patients
strengthen relationships and form new partnerships and collaborations across all stakeholders
Embassy Suites Noblesville
13700 Conference Center Drive South
Noblesville, Indiana
A room block has been reserved with a discounted rate of $219 nightly.
refrigerators and microwaves in each guest room
free buffet breakfast for hotel guests
free happy hour social for hotel guests
reservations need to be made before July 27th in order to get the discount rate
hotel discounts are available for 8/25 and 8/26 and may be extended for three days before and after based on availability
registration closes August 12th!
Links to the discount hotel reservations will be provided in the confirmation email you'll receive once you complete registration.
Saturday, August 26th:
7:30 AM:  registration opens
9:00 AM:  opening and welcome
9:15 AM:  Glut1 Deficiency overview:  symptoms, treatments, patient experiences
special guest speakers from Peyton Manning Children's Hospital
Kara Borcherding, RD, LD, CSP: Clinical Nutrition Manager
Jennifer Tobison, PharmD:  Pediatric Clinical Pharmacist
10:45 AM:  break
11:00 AM:  research fundamentals training
12:00 PM:  lunch
1:00 PM:  patient stories
1:15 PM:  research fundamentals training
3:00 PM:  social time
5:00 PM:  closing
Social time activities will include a movie for the children, a special activity for the teens and young adults with Glut1 Deficiency, and time for everyone else to socialize and get to know each other better.
Lunch is provided with breakfast and dinner on your own.
Nutricia will be there with a booth and KetoCal product samples!
Registration is free for Glut1 Deficiency patients.
The registration fee is $25 per person for all others participants.
Participants interested in stipends may apply during the registration process.
Scholarship applications are available to cover registration fees when registration costs create a financial hardship.
Registration closes August 12th!
A limited number of stipends are available, but participation will be open to as many who would like join from any of our stakeholder groups - patients, caregivers, clinicians, researchers, and industry partners - and a stipend is not necessary to take part.
Participation Stipends:  $100 for successful completion of either in-person or virtual research fundamentals training
Travel Stipends:  $400 for in-person participants requiring travel and hotel accommodations in order to participate
An individual may receive both a participation and a travel stipend, but only one individual per family is eligible for a travel stipend.
Travel stipends require staying at the Embassy Suites as part of the discount room block.
Stipends will be paid upon the successful completion of the training and all related activities (pre-test, post-test, and survey).
Participants may apply for stipends as part of the registration process.
Stipends will be awarded based on order of registration/application.
Participants will be notified of stipend status once they have been allocated and awarded.
A waiting list will be used as needed in case anyone awarded stipends will not be able to complete the training.
Individuals from any location are eligible.
Stipends will be paid via check or PayPal.
Child care will be provided by Jovie and will be at no additional cost to participants.
All children participating must be registered in advance as part of the general registration process.
Games, activities, and arts and crafts will be provided.
Age groups:  0 to 3 years; 4 to 12 years; 13 years and up
There will be an important opportunity for patients to participate in two special research studies to look for biomarkers in blood and urine that may show differences in Glut1 Deficiency patients that could lead to easier ways to diagnose and measure the impact of new treatments.
COMBINEDBrain team members will be at the hotel in Indianapolis to help facilitate the collection of blood and urine for these projects. One tube of blood, a blood spot, and a urine collection will be the options.
It is an easy opportunity to make a big impact on research and ensure your loved one is included in this analysis.
If you'd like to do the consent process ahead of time or talk to someone from the study team to learn more, please reach out to Glut1 Deficiency Foundation Science Director Sandra Ojeda for more details.
This project is partially funded through a Patient- Centered Outcomes Research Institute® (PCORI®) Eugene Washington PCORI Engagement Award (#28926).
The Patient-Centered Outcomes Research Institute® (PCORI®) is an independent, nonprofit organization authorized by federal law in 2010. Its mission is to fund research that will provide patients, their caregivers, and clinicians with the evidence-based information needed to make better-informed healthcare decisions. PCORI is committed to continually seeking input from a broad range of stakeholders to guide its work.
The Glut1 Deficiency Foundation is grateful for this opportunity and for the support from PCORI for this project.