American Epilepsy Society 2022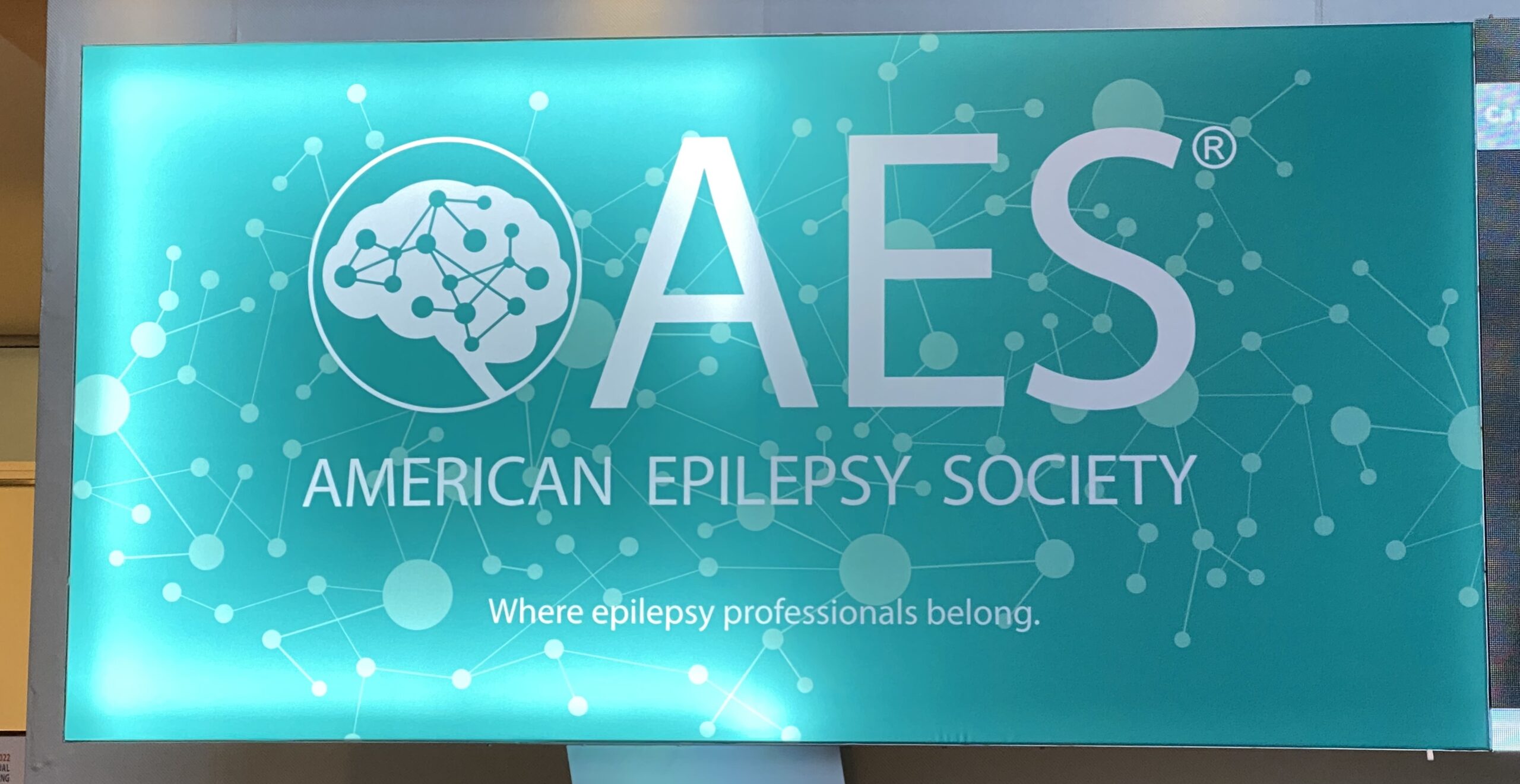 The AES annual meeting was held December 2-6 at the Music City Center in downtown Nashville, Tennessee. The G1DF was honored to host an exhibit booth in the Epilepsy Resource Area and had the opportunity to participate in a number of activities while there. Executive Director Glenna Steele hosted the booth, joined by her husband John to cover while she attended some of the presentations and meetings.

The American Epilepsy Society Annual Meeting brings together over 5,000 healthcare providers, scientists, advocates, industry, and other professionals dedicated to better outcomes for people with epilepsy through top-notch medical education, cutting-edge science, networking with colleagues from all over the world, and the latest in epilepsy treatments and diagnostic tools from nearly 130 exhibitors. 

The G1DF exhibit booth was situated amongst other patient advocacy groups in the Epilepsy Resource Area, so it was a great opportunity to catch up with some of our colleagues in other organizations, share updates and experiences, and learn from one another. We were also right next to the poster session area and meals for attendees, so this helped boost traffic and get attention from those that may not typically visit the exhibit hall.

We had the chance to talk with a number of clinicians who treat Glut1 Deficiency patients – many whom we know well, but also some new physicians who shared that they have patients in their care. It is nice to make those connections so they know to pass on to their families that we exist and can be a resource. We especially love it when they ask to take brochures and Love Some1 with Glut1 buttons and stickers back to their patients and families. It was also encouraging to see a growing number of adult neurologists interested, and in fact we had several reach out to say they'd like to get more involved with the G1DF and our patient community. We also had the chance to educate some early career professionals who had not heard about Glut1 Deficiency yet and plant seeds to hopefully help lead to more diagnosed. Several mentioned to us that they had been in sessions where our disease was mentioned, so it is good to know that the awareness and education is happening at this high level.

There were also several researchers who stopped by to say they were working on projects related to Glut1 Deficiency or metabolic epilepsies. There was a special session devoted to metabolics where Dr. Ramon Sun, a presenter at our conference, was invited to speak. The G1DF Science Advisor, Dr. Matt Gentry, also participated in a special session focused on updates for treatment progress in the rare epilepsy he's been devoted to for many years – Lafora Disease. We had the chance to visit with both Dr. Sun and Dr. Gentry for consulting and planning for research progress ahead.

It was exciting to also see a Special Interest Group (SIG) devoted to dietary therapies in epilepsy. Dr. Elizabeth Felton, a regular presenter now at our conferences and events, was one of the co-chairs. Dr. Felton, fellow adult neurologist Dr. Tanya McDonald, and adult dietitian Kelly Faltersack (also past G1DF presenters) participated in a session about sex-specific hormones and reproductive considerations for those using dietary therapies for epilepsy. It was an excellent and well-attended session and shed a lot of light on the influence of hormones on ketone levels and seizures, especially estrogen. They've kindly agreed to put together some resources for us to share on our website for our community as we know that struggles are plentiful around dealing with ketone fluctuations and symptom flaring during puberty and menstruation.

Also during this SIG, announcements were shared about the launch of the International Neurological Ketogenic Society and the upcoming 8th Global Symposium on Ketogenic Therapies, where the G1DF is honored to be partnering. There was a lot of excitement at our booth, too, when talking about the opportunity to be involved in this meeting and have special sessions focused on our disease.

There were also special receptions and smaller meetings happening alongside the AES sessions. Glenna had the chance to attend sessions with the Rare Epilepsy Network and also COMBINEDBrain – two organizations we work closely with. It was a busy few days for everyone who attended, but so many great connections were made and strengthened, learning objectives met, and hope lifted that so many people are working together to improve lives of the 68 million people worldwide living with epilepsy.

Participating in events like this and having opportunities to raise awareness and collaborate with others is only possible with the support of our donors. We are so grateful to all who help us in our mission.