Glut1 Deficiency Foundation
Research Ready Series
The Glut1 Deficiency Foundation is pleased to offer the new Research Ready Series, a special project to build a strong, patient-centered research foundation and increase research literacy in our community.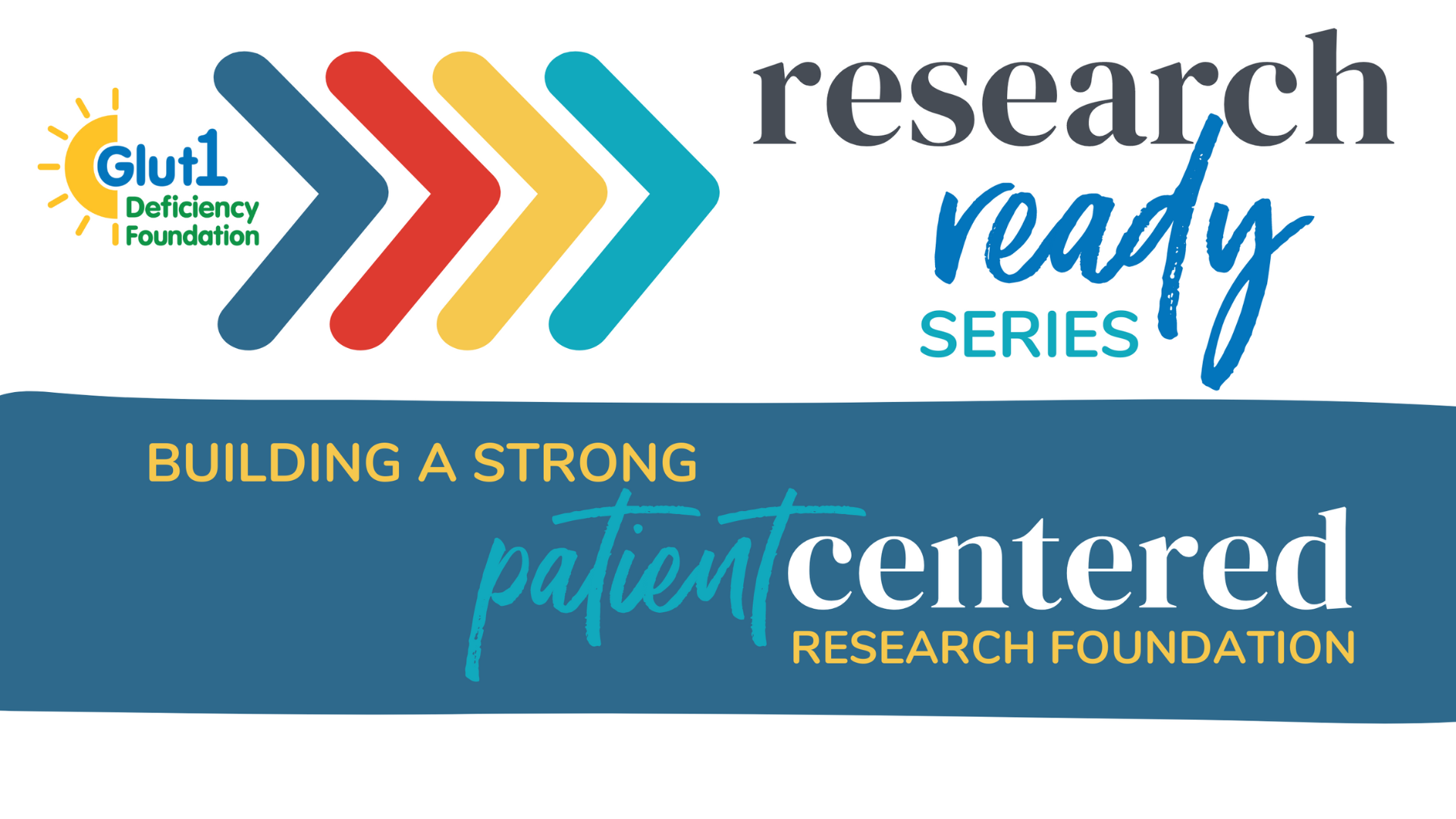 educate the community on the importance of patient-centered outcomes research
increase research literacy and clinical trial readiness
help ensure research is focused on the needs and priorities of patients
strengthen relationships and form new partnerships and collaborations across all stakeholders

In-person Sessions:
In-person regional events will be a full day using a mini-conference approach with the research fundamentals training imbedded in the activities of the day. Additional sessions will include presentations from clinicians and dietitians and opportunities to socialize and meet, share, and learn with other families.
The Dallas event will coincide with our Glut1 Deficiency Summit and the research fundamentals training session will be offered as an option during the breakout portion of the Family Day.

Virtual Sessions:
Virtual sessions on Zoom will include research fundamentals training in approximately 2 hours of time.

Stipends:
A limited number of stipends will be offered for each session, but participation will be open to as many who would like join from any of our stakeholder groups - patients, caregivers, clinicians, researchers, and industry partners - and a stipend is not necessary to take part.
Participation Stipends:  $100 for successful completion of either an in-person or virtual research fundamentals training session
Travel Stipends:  $400 for in-person participants requiring travel and hotel accommodations in order to participate
An individual may receive both a participation and a travel stipend, but only one individual per family is eligible for a travel stipend.
Travel stipends require staying at the event hotel as part of the discount room block.
Stipends will be paid upon the successful completion of the training and all related activities (pre-test, post-test, and survey).
Participants may apply for stipends as part of the registration process and a waiting list will be used as needed.
Individuals from any location are eligible but should be able to receive stipend payments either via check or PayPal.

Registration:
Registration is free for all virtual sessions.
Registration for the regional in-person events will be free for Glut1 Deficiency patients and $25 per person for all others.
Registration fees for the Glut1 Deficiency Summit in Dallas will be handled differently.
Stipend applications will be included in the registration process.
Scholarship opportunities will be available for registration waivers where the cost creates financial hardships.
August 26, 2023  Noblesville/Indianapolis, Indiana
March 23, 2024  Philadelphia, Pennsylvania
June 27, 2024  Dallas, Texas

October 19, 2024  Miami, Florida
March 22, 2025  San Diego, California
Session #2:  January 20, 2024
Session #3:  November 9, 2024
Session #4:  January 18, 2025  (in Spanish)
Registration for the March 23rd Philadelphia event will open in late 2023.
This project is partially funded through a Patient- Centered Outcomes Research Institute® (PCORI®) Eugene Washington PCORI Engagement Award (#28926).
The Patient-Centered Outcomes Research Institute® (PCORI®) is an independent, nonprofit organization authorized by federal law in 2010. Its mission is to fund research that will provide patients, their caregivers, and clinicians with the evidence-based information needed to make better-informed healthcare decisions. PCORI is committed to continually seeking input from a broad range of stakeholders to guide its work. The Glut1 Deficiency Foundation is grateful for this opportunity and for the support from PCORI for this project.
This project has been reviewed by Castle Institutional Review Board to protect the rights and well-being of the human participants in this research study.