We are already excited about our next biennial gathering of the entire stakeholder community at our Glut1 Deficiency Summit! We have special sessions planned to build relationships, foster collaborations, and create community while focusing on how to better meet the needs of patients and families.
The goals of our gathering: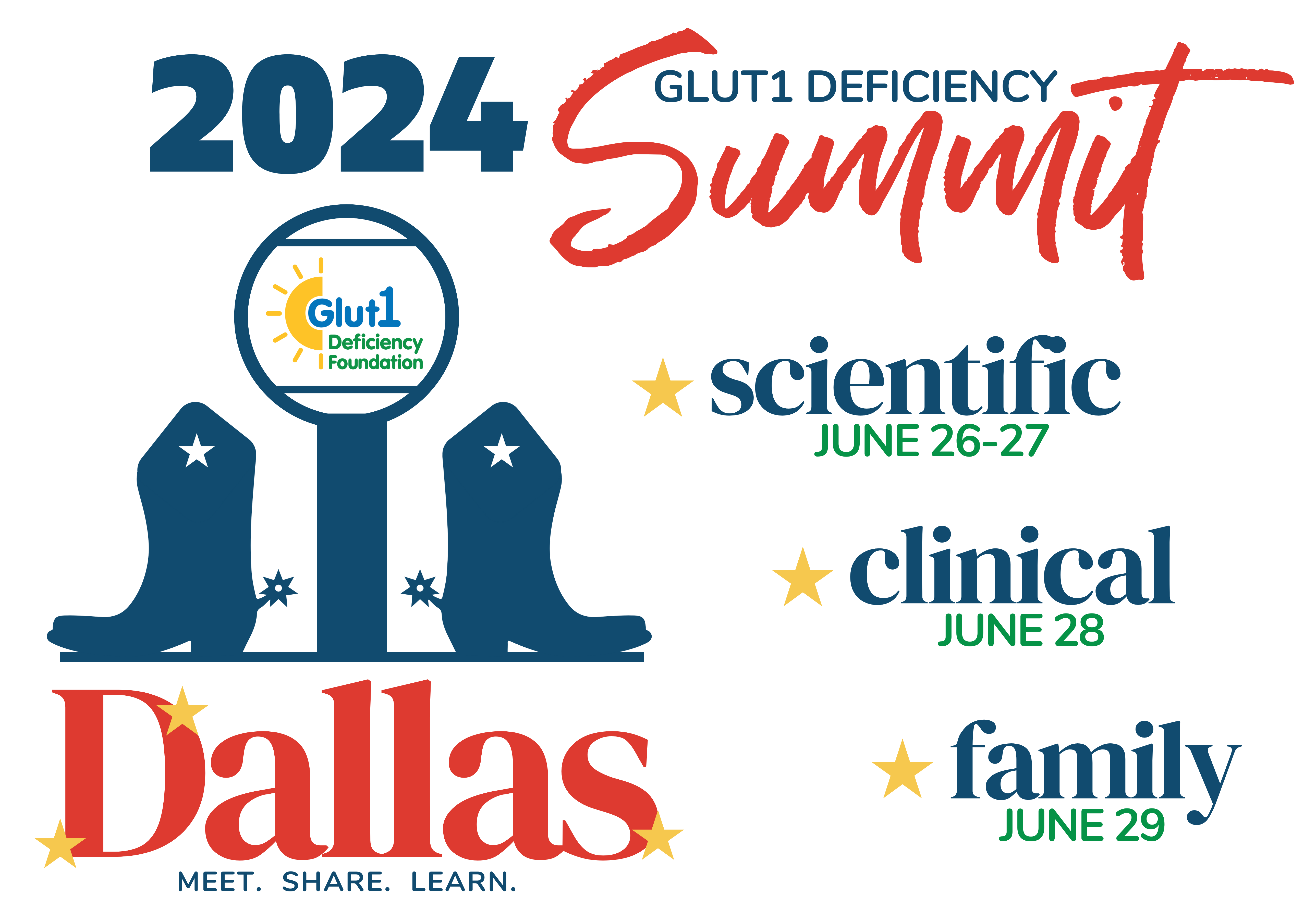 We will gather the scientific community to hear the latest updates in research and therapy development and provide opportunities to deepen collaborations and develop new ones.
The first day will begin with lunch and afternoon lightning talk sessions across a broad range of collaborative partners. The second day will feature a full day of presentations.
The clinical sessions will feature opportunities to learn more about symptoms and best practices in clinical care from expert neurologists and dietitians.
These sessions are ideal for patients, families, clinicians, and anyone wanting to understand the patient experience better and how to provide the best care for diagnosis and disease management.
The family sessions will feature information and resources to help patients and families navigate the challenges of this disease across a number of topics as well as provide opportunities to strengthen connection and support across the community.
These sessions are ideal for patients, parents and caregivers, siblings, friends, and extended family members.
Registration will be separate for each day of the Summit so attendees can customize their experience.
The focus will be different each day, but all stakeholders are welcomed and encouraged to attend all sessions of interest.
Registration options are available for both in-person and virtual attendance.
A welcome social will be held on Thursday evening, June 27th for all attendees.
Registration is now open and will close on June 12, 2024.
Conference Venue and Guest Room Reservations:
The Omni in downtown Dallas will be the venue for the Glut1 Deficiency Summit.

We've secured a room block with a discounted daily room rate of $239 plus tax.
Hotel guest room reservation instructions will be provided in the registration confirmation receipt.
Room reservations need to be made before May 11th at 5:00 PM Central in order to secure the discount.
A number of additional hotel discounts will be available to Summit guests, including parking and the on-site spa.
We request that all conference attendees who need overnight accommodations to book rooms at the Omni through the special instructions - this helps us meet our contract obligations, keeps registration and hotel prices lower, and helps you as an attendee get the most out of the conference experience
Activity rooms will be available for use during the Clinical and Family Sessions for those who will not be attending presentations
These rooms will have arts & crafts, games, puzzles, and other activities available
Invited guests will be providing entertainment and special activities
Staff will be available to monitor the room but no supervision will be provided
Attendees who use these activity rooms should plan to provide their own supervision (see Child Care Provider registration option)
One activity space will be a dedicated Family Room with live streaming of presentations so that those who do not have child care can watch and not worry about disturbing others
Research Participation Opportunities:
A number of on-site research opportunities will be available for patients during the Summit
These studies are designed to help provide important insights that will potentially lead to better and easier diagnosis and treatments
Dr. Juan Pascual and his UT Southwestern team will conduct the IRB-approved studies during the Summit
Please reach out to the study team to learn more and sign up:  

[email protected]
check back for more details as planning moves along!