Jyl is many things: a public speaker, two time Indiana Miss Amazing winner, and a recent college graduate. She's also the 15th person to ever be diagnosed with Glut1 Deficiency Syndrome. Jyl's successes have given her a sense of accomplishment, but her uphill battle to get there is what gives her perspective. Jyl and her mom, Cindy, opened up and allowed me to dig a little deeper into their story.
Jyl was 18 months old when she had her first and only true seizure, a tonic clonic or grand mal. She quickly moved from the 95th percentile to the 5th percentile, and at two years old when all of her motor milestones were not being met, they went searching for answers. They went from doctor to doctor, a familiar search to many Glut1 Deficiency parents, and with the help of Dr. De Vivo, Jyl was diagnosed with Glut1 Deficiency Syndrome at the age of four.
Throughout school, Jyl found her footing. She started on a ketogenic diet shortly after diagnosis and with a yarn necklace that said "Please don't feed me," she went to school and learned how to succeed despite all the odds that were placed in front of her. She met friends along the way, in both her local community and the Glut1 Deficiency community, who became some of her biggest supporters. With friends like Drew Hemlock, a beloved member of the Glut1 community who she remembered through conversation, she developed meaningful friendships. Socially Jyl blossomed. Helped by parents who were willing to do whatever it took, she participated in horseback riding, physical therapy, occupational therapy, swimming, dance, and gymnastics just to name a few activities. The skills she learned carried her through high school graduation and beyond.
When Jyl learned about the ABLE program (Achieving Balance in Life through Education) at Huntington University, she was 26, but was given the opportunity to participate. The independence she gained from being in a college setting gave her a unique set of life skills. In the morning, they attended ABLE classes that taught about things such as online safety and safe social media practices followed by college courses. She recently graduated in the spring of 2023 with her degree in child care and received a job opportunity on campus with the basketball team. Her journey is only just beginning.
Mistie Potts fell into Jyl's story at the very beginning when Cindy was pregnant. Cindy coached her cheerleading squad. Throughout the pregnancy filled with hospitalizations, NG tubes, and major weight loss from hyperemesis gravidarum, Mistie followed along as the story of Jyl unfolded. She cared for Jyl and stayed up-to-date as the years went on. Potts eventually got her master's degree in special education and began teaching at Manchester University. She invited Jyl two years in a row to speak at the university to the Exceptional Learners class. This opportunity launched Jyl into the world of public speaking. She speaks about her life with Glut1 Deficiency Syndrome and her time with Indiana Miss Amazing where she won in the Miss Division in 2018 and again in 2022 in the Senior Miss Division. Her story is valuable and she isn't afraid to let people in on her journey and the perspective it's given her.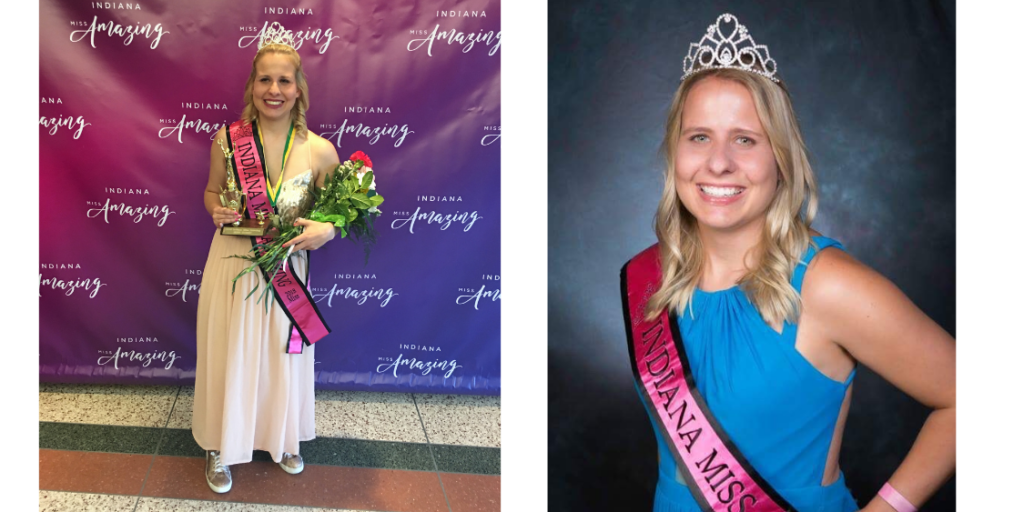 Now at 30 years old, Jyl looks back at all of her accomplishments and the independence she's gained. Jyl's story tells the tale of someone who fought past adversity and jumped over every hurdle along the way. Today, in the face of a rare condition such as Glut1 Deficiency Syndrome, Jyl knows what success looks like and she wears it well. Thank you to Jyl and her mom, Cindy, for allowing me to interview them. It was an honor to help tell Jyl's story.
by Maddison Hall
Glut1 Deficiency Foundation Communications Coordinator