Summer Research Roundtable Summary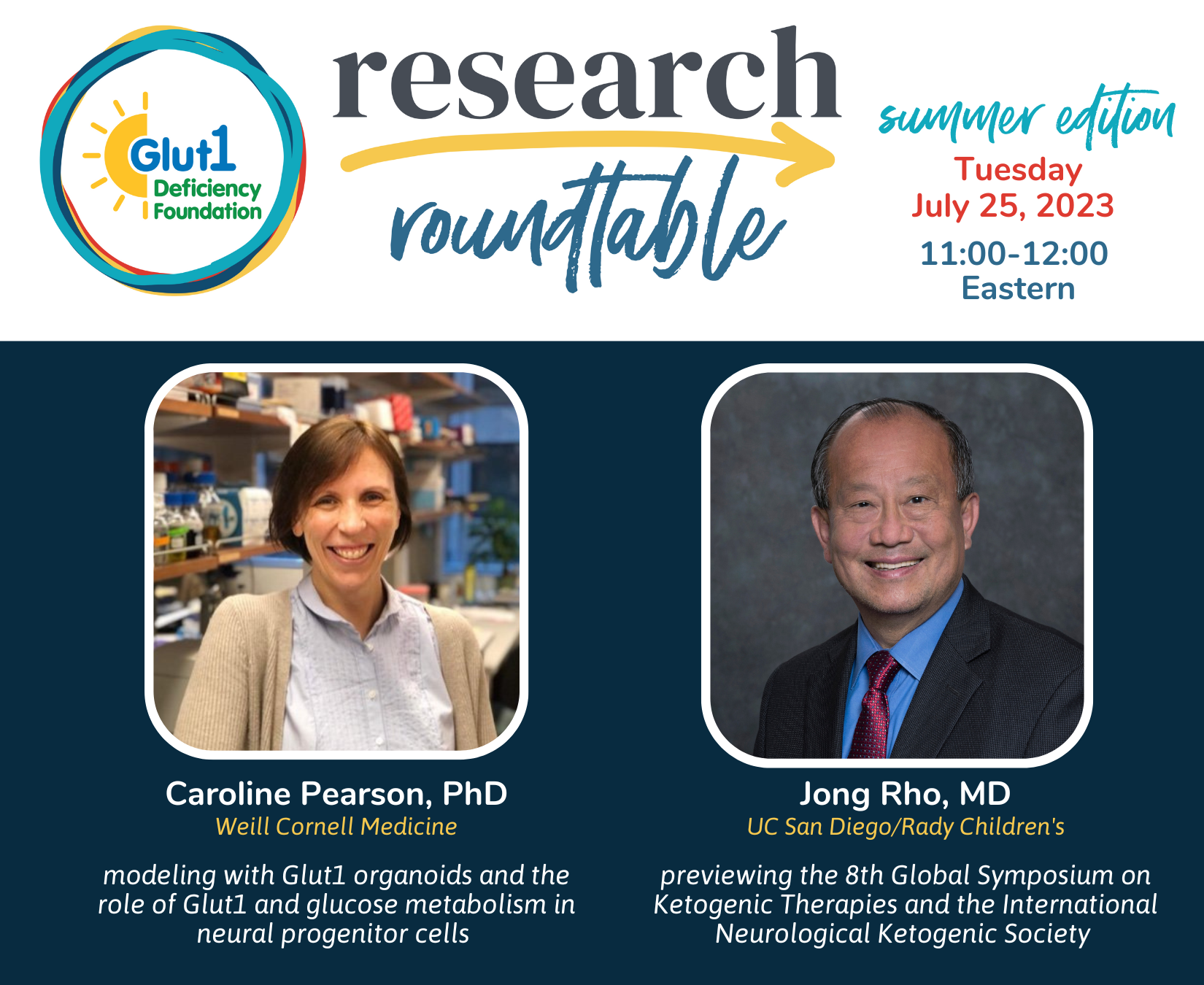 In this month's edition of Science with Sandra, I want to share a brief summary of our most recent research roundtable which took place on July 25th with 30 attendees participating with our special guest speakers Dr. Caroline Pearson and Dr. Jong Rho. It was a wonderful opportunity to learn about two topics of interest for our community!
The first speaker of the day was Dr. Caroline Pearson. Dr. Pearson is an Assistant Professor in Neuroscience in the Brain and Mind Research Institute at Weill Cornell Medical College in New York. She is a developmental neurobiologist, focused on elucidating the intrinsic and extrinsic mechanisms that regulate neural stem cell maintenance and differentiation. Dr. Pearson is particularly focused on understanding the early developmental programs that underlie brain development and how perturbation of these processes leads to neurodevelopmental disorders, including autism and epilepsy. One area of interest in her group is the role of Glut1 and glucose metabolism in neural progenitor cells.
The title of her talk was: "The role of Glut1 in neural progenitors and brain development". Dr. Pearson shared some information about her studies on cortical development and how Glut1 could be implicated. She started by explaining that early neural progenitors give rise to multiple cells and how multipotent neural progenitors have the ability to give rise to neurons, astrocytes and oligodendrocytes. Astrocytes are a type of glial cell that make up the majority of cells in the human central nervous system. They perform metabolic, structural, homeostatic and neuroprotective functions. In addition, they express Glut1 and are key players in providing energy for neurons. Oligodendrocytes are the myelinating cells of the central nervous system; myelin is important because it insulates axons in neurons.
One of the questions Dr. Pearson wants to answer with her research is: What are intrinsic and extrinsic mechanisms that give rise to neural progenitors?
In order to answer this question, Dr. Pearson has looked into the cerebral cortex early in development when the radial glial cells' microenvironment is highly dynamic and radial glial cells self-renew and undergo asymmetric divisions. Radial glial cells are specialized cells characterized by long radial processes. These processes facilitate their function of guiding the radial migration of newborn neurons. 
Dr. Pearson shared that when analyzing the gene expression profile of radial glial cells, she has found that slc2a1 gene is expressed in these cells. Slc2a1 is the gene that encodes the Glut1 protein. When Glut1 is dysregulated in radial glial cells, this alters metabolism programs that promote self-renewal and impact brain metabolism. In addition, she has seen that of Glut1 in radial glial cells results in an increase of the number of these cells at the expense of neurons.
Finally, Dr. Pearson shared that she has developed Glut1-deficient embryonic stem cells to generate brain organoids to study human brain development and model Glut1 deficiency syndrome. Cortical organoids are self-organizing three-dimensional cultures that model features of developing human cerebral cortex.
Our second guest speaker was Dr. Jong Rho. Dr. Rho is the division chief of neurology at Rady Children's Hospital-San Diego and a professor of neurosciences and pediatrics at UC San Diego School of Medicine. His clinical expertise is in general pediatric neurology and pediatric epilepsy, with an emphasis on pharmacological therapies and metabolic approaches toward epilepsy treatment, such as the ketogenic diet. His main research interests are the mechanisms underlying the anti-seizure and neuroprotective effects of the ketogenic diet and its clinical variants.
The title of his talk was: International Neurological Ketogenic Society (INKS). Dr. Rho started his talk by sharing with us how INKS was formed. The first ketogenic meeting was in 1999 and since then, more meetings all over the world have taken place. They started with a small number of participants, but throughout the years the number of participants has increased.
Two patient advocacy organizations, Charlie Foundation and Matthew's friends, have played a critical role in the advancement of this society. Their meeting in 2021 was key in the formation of INKS because many participants volunteered to meet and get things organized to establish the society and plan for the . This gathering will take place in San Diego at the Loews Coronado Bay Resort on September 17-21st and will have a Family Day on September 23rd. The Glut1 Deficiency Foundation is thrilled to have partnered with INKS for this symposium in which Glut1 Deficiency will have a special focus with wonderful speakers that will share information related to the disease and the treatment with the ketogenic diet. You can find more information about the meeting and registration details by following this link
We thank our guest speakers to our summer research roundtable for their work to help our community!
Thank you for visiting our blog and please do not hesitate to contact me at [email protected] if you have any questions or concerns.